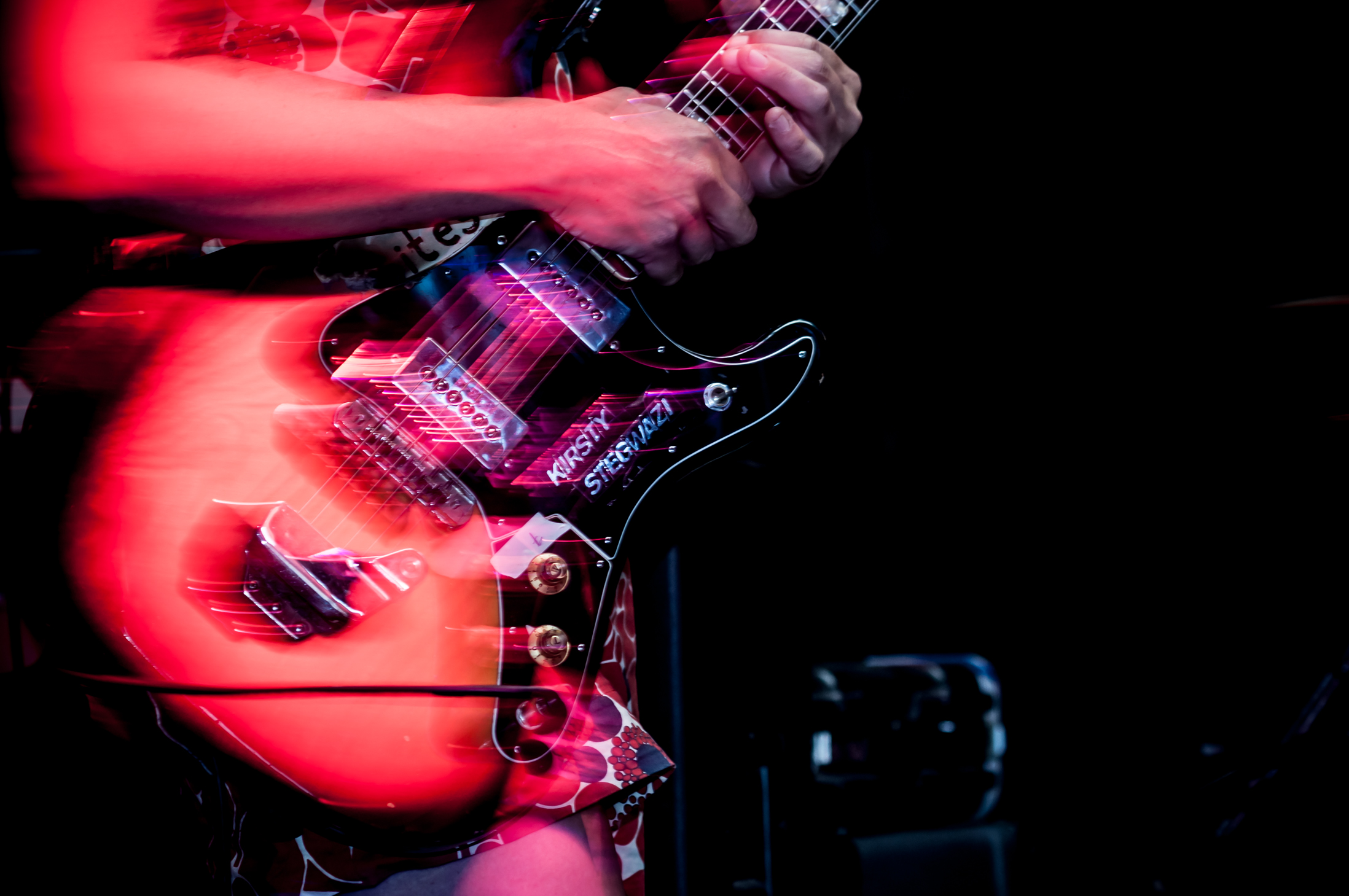 Girl To The Front: Kate Seabrook
Posted on April 6, 2016
"Australia-born, Berlin-based photographer with a fetish for metro systems, giant strawberries and punk rock."
With characteristic word economy, this is the sentence Kate Seabrook uses to describes herself in her photographer profile.
It's spot on. And characteristically again, just as humble.
Since beginning her photography journey in 2009, Kate has had work published in a slew of Australian and international publications (Mess+Noise, Berliner Morgenpost, Tagesspiegel, Couch, Tip and the Sydney Morning Herald's 'Good Weekend' among them.) And her epic, independent 'Endbahnhof' passion project (photographing the iconic underground stations of Germany and Europe), was recently featured in Berlin-based, literary travel publication, 'Elsewhere: A Journal Of Place'.
In addition to 'rockumenting' music stages on two continents, Kate has a soft spot for photographing shelter cats, sausage dogs (especially when they're racing), oversized strawberry huts, gaudy buildings and couples in their colourful living rooms. Her 'eye' is distinctly eccentric.
Kate is self-taught. She is married to one of the best punk rockers in Berlin and favours fabulous vinyl coats and sweet vintage frocks for her wardrobe, making her a pillar of colourful style in a city known for its glum hues. She also owns possibly the most-coveted pair of second-hand cowboy boots in Berlin (the kind you need to keep an eye on at parties if you're in a "shoes off" household). And her hard-drive bulges with such an overwhelming back-catalogue of photographs it can only attest to her passion for the medium.
Kate and I 'e-met' when I was a Wahlberliner-in-waiting. As the storage boxes in Australia filled up with a lifetime's worth of stuff, Kate was one of the helpful ex-pat souls kind enough to fill my inbox with answers to queries about navigating the Orwellian black hole that is German bureacracy.
In addition to providing priceless information ("as a freelancer you'll need to start accumulating bits of paper",) she also tried hard to convince her elderly, alt-Berliner landlord to consider my husband and I as worthy tenants for their soon-to-be-vacated wohnung. (Unfortunately it was not to be.)
After overcoming the worst of my jetlag we finally met in situ over several coffees in Kate's beloved north-Berlin kiez. We unraveled a mutual love for 'in the moment' performance photography and found some synchronicity between our respective practices. Some months later, when the opportunity arose for a local photography exhibition, it was a 'no brainer' for me to invite Kate to co-exhibit.
On International Women's Day 2016, our collaboration was officially launched: Circus Folk + Flower Punks, held at the gallery space of the Australian Embassy in Berlin. (Sorry, "E\m/bassy".)
Kate is not only a strong visual storyteller, she has a way with words plus a great sense of humour. Girl to the front, if you please…
---
Circus Folk: What is your 'Berlin story' – how did you come to be here?
Kate Seabrook: I first visited Berlin in the winter of 2006. It was one of those "quarter-life crisis"-induced whims. I had no plan and very little money. At first I didn't even really like the city. It was so bleak and grey; I couldn't get my mouth around the word Entschuldigung ("excuse me") and the Berliner Schnauze ("gruff Berliner attitude") was a bit of a shock to my angsty, thin-skinned, twenty-something self.
In the first place I stayed, the gas heating broke for two days and I have never been so cold and miserable. Then I was struck down with the most hideous case of food poisoning and was too sick to move to my next planned destination (Leipzig). [Friend, DJ] Jimmy Trash kindly let me recuperate on his couch for a week after I overstayed my welcome at my previous crash pad.
"Berlin is just such an interesting city. I don't think I will ever get bored of just wandering around observing the theatre of street life."
In lieu of paying rent, I was assigned the task of unlocking the door at some ungodly hour when Herr Trash came home from whichever club he was DJ-ing at that night. He had a wonderfully peculiar Bavarian housemate who used to make instruments out of children's toys.
Despite all the shitty weather and misadventures, something about Berlin intrigued me enough to return twice more on holidays and then finally move here with my husband Simon, in December 2011.
CF: What do you like about living in Berlin? And the community you have found here?
KS: Berlin is just such an interesting city. I don't think I will ever get bored of just wandering around observing the theatre of street life – with or without a camera in hand. Also the fact that it is smack bang in the middle of Europe offers a dazzling array of travel opportunities. On Tuesday Simon and I are catching a flight to Budapest, just because we can.
Of course there is no shortage of interesting folks to meet here and everyone is generally pretty supportive of each other's pursuits, whether creative or otherwise.
CF: What do you like about taking photos in Berlin? What kind of opportunities does it offer you, as an artist? And has it been easy to find photographic work?
KS: Berlin is a real double-edged sword as a photographer. It is an endlessly fascinating place, but most of the stories have been told many times over. This is now forcing me to look in less obvious places for inspiration. I'm still not sure how that is working out!
I have certainly had opportunities here that would never have presented themselves back in Australia. Like my relationship with the Australian Embassy, who are hugely supportive of creative Australians trying to make their way in a new country.
CF: What first attracted you to taking photos – as opposed to say getting involved in another mode of expression, like writing or drawing or making music?
KS: Mostly a complete lack of natural ability in any other form of expression!
I was obsessed with grunge and metal in high school and tried to play the drums very fleetingly, but did not have the co-ordination or patience to pursue it.
Writing is my profession, but when it comes to creative writing, I still flounder a bit.
What drew me to photography is that it allowed me to indulge in being a silent observer and to hide behind the lens, which is where I feel most comfortable. It also gave me a reason and purpose to be present in places that I otherwise did not feel cool enough to be!
CF: What do you enjoy the most about making photos? And the least?!
KS: I have a pretty terrible memory. Photography allows me to preserve moments both for myself and to share with other people.
I love lining up either obviously amazing or seemingly mundane visual elements in a frame, so people can see things they might have missed or otherwise forgotten.
What I really dislike about photography is the editing process. I have so many photos languishing in my image archive that I have not even looked at!
CF: There's usually a story behind every photo: can you choose one or two faves from your Flower Punks series, and share them with us?
KS: The photo of Courtney Barnett (bottom left) was taken in 2010 at the East Brunswick Club in Melbourne. I had been hired to cover this particular event, which I later found out is where Courtney's manager discovered her.
As a rookie photographer trying desperately not to screw up the task at hand – and only partially succeeding – her music was kind of the perfect soundtrack to that. What struck me was her knack for telling the tales of socially awkward dreamers in such a clever and disarming way. I got the sense that it was only a matter of time before the rest of the world caught on. The rest, as they say, is history.
The photo of Elise Bishop (above) was taken in 2009 at the much-loved and revered Tote Hotel in Collingwood. Elise is an amazingly talented musician – like a female Blixa Bargeld – as well as being a generally excellent human being. The sounds she can create using a bass guitar and a hacksaw (or any other number of random household objects) are quite gloriously unholy. She played in a number of respected noise acts around Melbourne including BadCopBadCop, Auxiliary Assembly and Elise & Jem.
Elise used to live in Ballarat and organised cellar gigs in a pub there. I once stayed overnight at her house after a gig and recall that she grew the largest squash in her vegie garden that I have ever seen. The last I heard, Elise was living in a lighthouse on a remote island making pottery and rock sculptures.
CF: Kate, not long ago your and your pet cat were photographed for Swedish magazine, 'Pet People'. It was a feature about you and your "rescue kitten" Igor, who sadly lost his battle with cancer just as we were about to open the 'Circus Folk + Flower Punks' exhibition in March this year.
Both you and your husband Simon shared a very special relationship with your cat; Igor put up an incredibly brave and surprising battle against his illness. He's also possibly one of the most photographed cats ever! Would you share with us a bit about his story – and his relationship with your camera? Was he a part of your photographic life or "practice", so to speak?
KS: Simon and I adopted Igor in December 2012, almost a year to the day after we arrived in Berlin.
Igor was rescued from the streets of Marzahn-Hellersdorf and had a tough time early in his life. He had a broken tail and a couple of scars on his face. We knew that if he could talk, he would have some pretty amazing tales to tell.
Many people remember Igor as our magical sitting cat, because he would sit on command like a dog. We can thank his foster mother Sophie for teaching him that trick!
Igor was such a bratty, demanding and hilarious cat with a very expressive face. As a first-time cat parent/photographer, I could not resist telling his life story through the lens. Things got pretty rough in the [European] summer of 2015 when Igor was diagnosed with a very aggressive form of lymphoma. He battled the disease very bravely for more than eight months and was mostly a very happy and normal cat during this time. He fully recovered from the initial emergency surgery to remove the tumour and well outlived his initial prognosis of just weeks.
But at the beginning of March 2016, the cancer returned and there was no more fighting it. We said goodbye to Igor the day before this exhibition was installed. Igor was just four years old, but we like to think he had a lifetime of cuddles in the few years he spent with us. I had one of my photos of Igor turned into a tattoo portrait of his face on my arm. You can see this in Issue 02 of 'Pet People' magazine [and pictured above.]
After everything that happened, I am so grateful I documented his story. Igor was a truly exceptional cat and taught us so much about life and love and death.
We might even write his memoirs one day…
With thanks to Kate Seabrook!
---
Circus Folk + Flower Punks  is the performance and portrait exhibition at the Australia Embassy in Berlin, which features work by myself and Kate Seabrook (March 9 – May 27). This is a series of interviews I did with some of the artists.
---