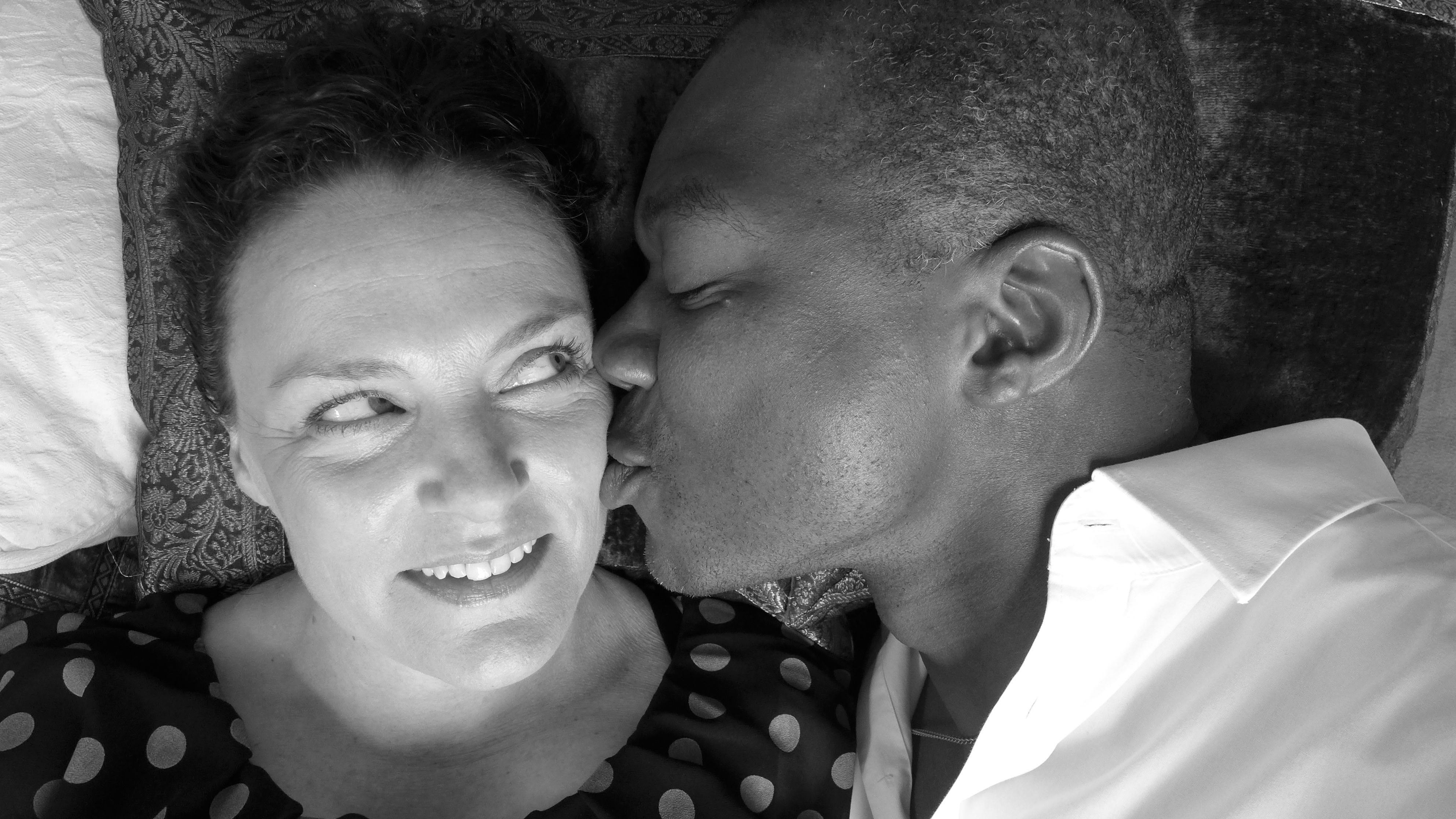 A Recipe For Love: Carrington-Brown
Posted on May 29, 2016
I first stumbled upon Carrington-Brown as 'civilians' at an open mic night in Berlin-Neukölln.
As professional comedians, Kabarettisten and amateur storytellers came and went on that tiny stage (myself in the latter category), a giant baritone laugh filled the room.
During the break the owner of that laugh came over and introduced himself. Having only just arrived in Berlin I was horribly jet-lagged; in all likelihood I shouldn't have been anywhere near a stage let alone jumping up with a somewhat serious, heartfelt, wordy tribute to one of my music heroes.
That night at least, it really was a comedy stage, and if I was up there it should have been to make people laugh. Clumsily broadcasting songs from my mobile phone speaker through the microphone only added insult to injury. I had no business being in show business – or so it felt.
But this friendly stranger came forward nonetheless. "My name's Colin. I really liked your piece about Patti Smith," he said with a broad smile.
"So did my wife – have you met Rebecca?" Her beaming expression also made me feel welcome – and as if the applause that had greeted my stage contribution that night wasn't so 'polite' after all…
They turned out to be two of the hardest-working people in show business: English-born, Berlin-based music comedy duo "Carrington-Brown", aka cabaret performers Rebecca Carrington and Colin Griffiths-Brown.
Theirs is a love story underscored by a deep mutual affection for music, and of course each other. First meeting as performers at Edinburgh Fringe Festival, fittingly they have made their home in Berlin, Europe's historical – and some might say spiritual – cabaret capital.
This year they celebrate a decade together as professional partners. Prolific in output, since officially forming as a "duo" their performance tally has yielded around 1200 shows (that's 120 a year), with appearances on stages across Germany and Europe, and further afield to South Africa, America, India and Canada.
Executed in English and German, their shows take audiences on high-octane rides through real life and popular song. Their individual talents knit together perfectly: Rebecca is a gifted cellist, pianist, singer, humourist and beat-boxer, and Colin an equally talented dancer, singer, raconteur, actor and comedian.
They also share the gift of mimicry: Rebecca's impersonation of Canadian screen composer Howard Shore – front and centre in their show Dream A Little Dream – was hysterically funny (and accurate). Recalling her time working as a cellist in The Lord Of The Rings: The Two Towers film score orchestra, she summoned the genius composer's distinctive slow-motion drawl and hilarious hesitancy with spooky accuracy.
Ditto for Colin's reanimation of tormented jazz legend, Nina Simone. Clad in a luminous caftan and fluffy feather boa, only someone who'd studied her tragic life story could enact her historic disdain for audiences so palpably (and hilariously). Glowering at us from the stage as we laughed and gasped in fear, he narrowed his eyes and launched into 'My Baby Just Cares For Me' as if he had resurrected "Miss Simone" from beyond. (I laughed so hard every cubic centimetre of air left my lungs.)
Suffice to say Berlin is lucky to have them – and I got lucky when they agreed to spend some time inside the Circus Folk big top, recounting more of their story…
Circus Folk: Could you please give us a 'snapshot' of your respective musical and performance backgrounds?
Rebecca Carrington: I come from a musical family. My grandmother was a cellist who was very influential in my choice of instrument. My father became a professional singer, founding and touring with the UK A Cappella The King's Singers for 25 years. Since 1994 he has been a full time choral conductor and became a professor at the New England Conservatory in Boston and Yale in Connecticut, US. My mother is a pianist and my brother a singer/songwriter.
As the story goes, when I was born I came out singing. I started on the piano at four years old but after my parents realised I was not going to be the next Mozart, I started the cello at age six (which my grandmother was hoping I would do!)
I continued piano studies till I was 22 and studied the cello up until 26, when I became a professional cellist performing with orchestras in the US, UK and Europe. I very much enjoyed my freelance years in London where I got to perform with the London Symphony Orchestra and London Philharmonic. I also recorded on [film] soundtracks Lord of the Rings II, Harry Potter II, Gangs of New York and Hannibal.
When I was studying for a Masters in Classical Cello in Houston, Texas, I stumbled into comedy on a visit to New York. Somebody dared me to do a stand up comedy 'open mic' night as they thought I was funny! My first ever performance was without the cello; but when asked back to do a professional night I thought, to give my act a slight twist, I would take my cello "Joe" up on stage with me…
As I loved lots of different types of music I'd always had problems just focusing on classical music, [and] had always had the urge to perform on stage rather than in an orchestra. Comedy gave me a chance to do something different on stage, and also to explore a variety of musical styles, which became the basis of my music comedy.
After performing my one-woman show "Me and My Cello" at the Edinburgh Festival, since 2004 I have been a full-time music comedian!
Colin Griffiths-Brown: I guess I would have to say that I secretly harboured the desire to be a performer all my life – right from the start. My mother – after initial doubts – encouraged me, saying that I would regret it if I did not take the opportunity when it finally presented itself.
My earliest memory of performing on stage – apart from the usual 'nativity' – was a solo spot in the school assembly singing a Welsh song (thankfully not in Welsh), with a Welsh accent about a Welsh steam engine. I became a celebrity in school for a few hours. I remember being quite hesitant at first, but I had always been the class clown – "the joker" if you will.  Encouraged by my teacher Christopher Robert Seaman, I took my first steps towards becoming the 'world star' that you now know me as…
The ability to entertain and make people laugh I no doubt inherited from my father (Wilton Melezan Brown): he was and remains to this day the funniest man I have had the good fortune to be near, dear and associated with (and call "Dad"!) He could reduce the whole family to tears with stories and anecdotes, effortlessly. He had a phrase for everything and was quite simply hilarious.
At secondary school I met the next big inspiration for my performing career: my music teacher Vivien Geraldine Brooks (née Smith), who I am thrilled to say I am still in contact with to this very day. Throughout my entire time at school she got me singing in the choir, performing in school concerts, musicals and performances. I had some talent and she nurtured it, supported me, and gave me the confidence to go on and ultimately have a career.
Around the same time I started to learn to play the bagpipes in a pseudo military organisation called "The Boys' Brigade". For two years previously I had heard this sound and it was love. I have seldom been so sure about anything in my life: this instrument captured 1) my attention, and 2) my utter enthusiasm.
I started relatively late but over a 25 year-plus period I have been involved as a performer in film, television, voice over, musical theatre, theatre, radio, comedy, music and comedy, opera and A Cappella. Unlike Rebecca, I didn't come from a musical family – it wasn't "written in the stars" that I would become a musician! I had flirted with the recorder – as we all do! –  but had little luck.
Enter John Howard Shone & Ian Reid Fleming: with inspiration and support from these two gentlemen – and the chance to be the first negro piper in the history of the 5th Croydon Boys' Brigade band – I was determined to succeed. I achieved my aim inside one year and still play today some 40-plus years later.
English actor, director and writer Simon Callow gave me my first ever job in musical theatre. For 25 years or so he has been ever-present at pretty much every stage of my career. We are great friends and have done numerous jobs together over the years, including 'Carmen Jones' at The Old Vic Theatre, 'Les Enfant Du Paradis' at The Barbican Theatre and television production 'Trial & Retribution'.
He has always been a great supporter of mine with all the twists and turns my career has taken over the years!
So I must here and now thank him in print:  Thank you Simon! He's been a great inspiration and is the one to "blame" for my 25 career on stage, and as a performer…
CF: Colin and Rebecca, how did you both meet? And come together as musical partners, Carrington-Brown, 'cabaret duo'?
Colin: I first met Rebecca in 2004 at the Edinburgh Festival. It was immediately clear to me that perhaps one day we would do something together artistically. Who would have thought that in less than three years we would achieve this with a good deal of success?!
Rebecca: I was performing my own show [Me and My Cello] and was trying to see as many other acts [at the Festival] as possible within the four weeks I was there.
I went to a show that made me laugh out loud and a guy behind me at the end said, "If you like this show you will love The Magnets." So I went along the following evening not knowing 'who' The Magnets were. It was fantastic: six men singing A Cappella with microphones. One of them was an incredible beat boxer, and another a sexy bass singer (Colin). I was blown away: having grown up with my father who was in one of the most well known A Cappella groups around, these guys reminded me of a modern version of them!
After the show I didn't want to go straight up to "the sexy bass singer" as I was feeling a bit shy! But later I saw Colin at the opening of the Festival party alone at the bar, so I thought to myself "You only live once!" So I walked up to him and the rest is history – well not quite! We talked, laughed and danced all night long. It was very clear that there was a special spark between us. We both realised it was love at first sight! We even discussed on that first evening doing something on stage together.
I invited him to my show the next day, which he came to. It happened to be a performance that was being recorded for CD. Colin has a wonderful infectious laugh that you cannot mistake and luckily he found my show very amusing, as we have a very similar sense of humour. So he is actually featured on my first CD before we even joined forces!
Colin: Rebecca's career to this point had been relatively successful and she was building quite a name for herself on the English cabaret/stand up scene. But often as is the case, talent coupled with a new idea is often despised, not applauded and embraced. In my opinion, she was not getting the attention or appreciation she deserved.
Our first step towards [working together] was with me as co-writer and director of Rebecca's solo show.
I introduced Rebecca to the two agents from Germany for and with whom my A Cappella group had done a lot of corporate entertaining and solo shows. I presented her as someone who spoke German and whose act, in my opinion, would be perfect for the Kleinkunst [performer] scene in Germany. (Kleinkunst refers to the "independent" scene in Germany, not "small" as it is sometimes misinterpreted.) She joined and within one year she was winning important prizes; there seemed to be a real appreciation for her brand of entertainment.
Rebecca: In 2006 Colin was asked to go on the [Close Encounters] World Tour with Robbie Williams as a backing vocalist. This was a very exciting time for us both: for him it was a once-in-a-lifetime kind of a job, and I got to visit him on some of the tour. When it finished, the question was "what to do next?" Throughout the tour he'd still been directing my show but we both decided that we should perform together as he was too good to just be 'behind-the-scenes'.
Colin: On returning from this tour, we decided we would work together for a number of reasons – not least of which was that we were now romantically involved!
Rebecca: Colin had never actually performed comedy but was a natural comedian. He'd had a lot of experience on stage as an actor in theatre and musicals, as well as the years with the A Cappella group and "Robbie".
It was also something I had been wanting; having performed alone for eleven years, I'd found it quite a lonely life.
Colin: Having discussed our future – and the fact that Rebecca no longer wanted to work alone – "Carrington-Brown" was formed. Our first show was in early 2007 in a village hall in Kent, England, and was titled The Urban Myth. It was a mix of ideas from previous shows by Rebecca, and new sketches written for our first show together.
Rebecca: Our show was getting booked more and more in Germany and Austria, so in 2007 we decided to make the move over here to Berlin.
We both love living in Berlin, and have created a wonderful life here.
CF: Cabaret seems to be having a resurgence around the world.. Do you agree that there is an upswing happening? Why might that be so?

Colin: I think you're correct in Europe but not necessarily England. On the whole Europeans tend to be more open to crossing, mixing, fusing and producing new artforms within a given genre.
However the 'hybrid' artform has not yet been born in 'the old country'. There is still a very puritanical approach to performance art, so you do not see – apart from at The Edinburgh Festival for example – new, innovative artforms that would attract an already pretty-single minded group of people. For a country with so many different and diverse cultures, it is surprising.
Rebecca: "Cabaret" is funny word: it means different things in different countries. In the UK many people think "cabaret" is burlesque – people doing the can-can wearing very little, or somebody singing songs from musicals.
I have always called myself a 'music comedian' who does 'music' and 'comedy'. That is one reason we're here in Germany; it was hard in the UK to be marketed as people were not sure which genre I fitted into. 'Theatre' was separate from 'comedy' which was separate from 'classical music' and so on.
I hope that cabaret is having resurgence: they always told me that in the UK. But I didn't see much of it. Even in all the "going out" magazines there was never even a section named "Cabaret". Berlin was the capital of cabaret in the 1920s – I think you could still say that it is!
Colin: I can honestly say that we would not – or could not – have had the careers we have had in Germany or Berlin if we had stayed in England. We've had more work in Berlin and Germany than we anywhere else! It was a new experience to play in Berlin and see your posters all around the city. With the help and support of others and various venues, we have managed to carve out a reasonable career. The Bar Jeder Vernunft & Tipi have been our main supporters over the years, and unlike various bookers and agents along the way, they never questioned us working together.
CF: So has it been a 'challenging' road getting to where you are now, as 'Carrington-Brown'? I'm guessing you had to work hard to overcome a ton of hurdles, and cultivate tenacity and resilience in the job and on the circuit. Is that where working as a professional duo and life partners can help with the struggles performers encounter along the way?
Rebecca: Yes, it has been a challenging road. I started off here in Germany as a solo artist; [so] in the beginning it was not that easy to be accepted as a "duo". We also got told by quite a lot of people that being a duo "is not easy" (what is?!)
Some people said I was better off alone: for example it's an easier "sell on TV", with the TV 'formula' being more focused on solo acts.
Colin: The road has been extremely challenging but rewarding. Learning how to work together as professionals and as a couple was the first real challenge. We have overcome this by being patient and allowing the passage of time to educate us about each other and allow the necessary space required artistically and personally for us to express ourselves without judgement. Knowing that we have each other's support is so important. There were those who initially were not thrilled about our union professionally or personally and it is hard to speak about one aspect without the other, since they are so intrinsically entwined.
I think our personal relationship has definitely helped our professional one. What we have done is create an environment where we can actually do what we love as a profession, and get remunerated for it. There are not too many people who can say that!
Rebecca: Working on our fourth show ["10"] together it has certainly made us stronger – having also performed with a big band and an orchestra too! There is no doubt that I love sharing the stage with Colin, and would not have it any other way!
CF: What are the challenges facing cabaret performers in Europe?
Rebecca: Well you are always up against the more mainstream performers who can sell out the big venues, as generally they are 'TV names'.
Colin: To my mind the main challenge facing cabaret performers today in Europe is finding a base [in which] to live, whilst having enough work to sustain your life and lifestyle. It's one thing if you want to spend your whole life touring, but ultimately you want to have 'a life' at some point.
Rebecca: But having toured Europe over the last 10 years there are certain places where [you can] also have a bit of a following. Last October we performed in a 1000-seater [venue] in Hannover which was very exciting – although we still love playing in the more intimate venues like the Bar Jeder Vernunft here in Berlin.
Colin: The challenges differ from performer to performer: the physical artist knows they have a finite time, then they must find an alternative revenue stream because the body can only take so much – injury is also a constant concern! And the 'non-physical' artist must constantly come up with new ideas to stay competitive in the market.
CF: Who do you both look to, for inspiration, nowadays? Are there any 'shining lights' who keep you inspired?
RC: Yes – the grandfather of music and comedy, Victor Borge, my hero! He was a fantastic classical pianist but also a very funny comedian. His delivery was genius! He was originally from Denmark but made his name in the US after Bing Cosby discovered him. At one time he was the highest paid entertainer in the world! (As a marketing gimmick in the UK, people used to promote me as the "Victor Borge of the cello").
Thank god for Victor!
Colin: My/our inspiration/s come from many different sources. We always start with music when looking to write a new show. People like Louis Armstrong, Ella Fitzgerald, The Beatles, Bach, Joni Mitchell, Nina Simone, David Bowie, Michael Jackson, Seeed and Madonna.
The stories are often tales from our own lives with a little embellishment for entertainment value. Then there are events from more recent times to which we give the same treatment – the "Carrington-Brown treatment"! From old folk songs, nursery rhymes and self-penned lyrics to songs that everyone knows – basically anything that we think will serve the work.
The list is endless – it's always an assortment of ideas. Fragments from here a lyric from there… A full pallet of colours, you might say!
CF: As you say, in your shows you often take stories from your own lives, then translate them into cabaret texts using popular songs as the soundtrack to those real life 'moments'. How long does a show take to write? And can you give us a bit of an insight into your process as you put a show together?
Colin: From inception to premiere a show will take about a year-and-a-half to write, rehearse and present on stage. It is important to let ideas breathe and develop organically. This is not possible without the necessary time. When I think back to my musical theatre days, a show would take five weeks to rehearse – Monday-Friday, 10am-6pm, pretty full on and intense! But that's due to investors, premiere dates, ticket sales, producers and so on.
We are "all of the above", so we work to our own schedule – hence the term Kleinkunst: "independent art".
Rebecca: Since living in Germany we have become a lot more organised in our creative, writing, rehearsal process! We now have two people we work with who have helped us write, create, structure our ideas and direct.
In the last two months we have done some amazing work with a fantastic lady from Holland called Amber Schoop. It is the first time we have worked together but she works very well with the both of us. She is a wonderful performer, singer and actress herself, but also a great director. She has helped us enormously to structure our ideas and write the script. She even studied in Amsterdam at a Kleinkunst Academy.
Our other director, Arthur Büscher, is German but lives in Vienna. He will help us translate everything into German as at the moment it is written in a mix of English and German! He is also a wonderful choreographer and will be working on our 'choreo' and staging.
As a married couple it is very important to have someone who can work with the both of you but also 'in between' you. Plus it helps us structure our rehearsal times so that we have to do it rather than putting it off until tomorrow!
As Colin said, the most important part of our show is always the music. The musical process is often me having to see what might work with a cello, two voices, a keyboard – and in this new show, a loop machine!
CF: The relationship to the audience, especially in cabaret and music comedy, seems particularly intimate and intrinsic to what's done on stage, in perhaps ways that might be less so if you were 'simply' a rock singer or a theatre performer. Do you have any memorable stories you could share that might illustrate that special relationship between audience and performer?!
Rebecca: They say in Kleinkunst that "the fourth wall" is removed – that is the wall between the performer and the audience…
Colin: Ah yes, breaking through "the fourth wall. Well we have been relatively heckle free down the years – it sounds like a disease, and for some it can be! The Germans in particular can be very vocal at times during a cabaret performance – and not necessarily is the spaces set aside for such 'appreciation'!
We once played in Berlin and the people were so loud and vociferous in their screaming and clapping it caused one blessed fellow to call out vehemently that he found it ALL TOO LOUD! The same evening, another gentleman collapsed! It all happens when you come to see Carrington-Brown, such is the atmosphere we create…
Rebecca: I've always loved making people laugh, and having the direct connection to the audience can add even more material to the show!
I've had to really work on not reacting to the way that some of the audience look at you as you're performing – it can be quite off-putting! Some people look bored or even close their eyes and go to sleep! But at the end those people can come up to you and tell you how much they enjoyed the show.
I remember once when I was performing solo at the Quatsch Comedy Club in Hamburg there was a rather gormless guy sitting in the first row with his mouth constantly open, almost drooling. I kept trying to ignore him but inwardly I was laughing; it was such a funny image. There I was on stage with the intention of making people laugh; it was generally working, apart from this one guy in the front row.
In the end I actually said (improvising in German), "That isn't funny: I'm in a comedy club trying to make people laugh but all I get is this reaction in the front row," (imitating his face). People started laughing and looking at him. After this realisation his face slowly turned from gormless to a smile, then to a full on laugh! That was satisfying: when the connection from the performer to the audience works, it's a lot of fun!
CF: We've lost some BIG names in music this year. If you could each bring back one (deceased) musician, who might that be – and why?
Rebecca: Definitely Victor Borge, my biggest inspiration! I even once dreamt that I met him and he helped me with some ideas for music and comedy. I watch him still from time to time when I need a little inspiration!
Colin: The people I would love to bring back are Louis Armstrong & Ella Fitzgerald. They worked together a lot and had a very special relationship on stage – that doesn't happen by accident and you cannot manufacture it. I am not sure if they were ever romantically involved, but they produced magic on the stage. I would love to question them both about how it was working together.
CF: What's next for Carrington-Brown?
Colin: We are preparing our new show to celebrate our ten-year anniversary on stage. It will be titled "10" and premiere in Köln on the 22nd of September.
Rebecca: We are performing it for three weeks in Berlin from November at the Bar Jeder Vernunft.
Colin: We will [also] perform a school programme for a music festival in June, Ludwigsburger Schlossfestpiele –
Rebecca: – With a class of 9- year-olds! Then touring around the area and recording this school show with the kids for a CD.
In April next year we will be performing our orchestra show at the Tipi in Berlin with The Swonderful Orchestra – we are really excited about it as this has been a big dream. The orchestra is made up of some friends who are very fine Berlin musicians, some of whom perform with the Berlin Philharmonic, Komische Opera and Potsdam Kammerorchester!
We have also been commissioned to write and compose our own operetta that we hope to get started after our new show premieres. And next year we would like to record a studio CD of all our favourite songs we have performed over the last ten years. It will be titled "Carrington-Brown: 100% music".
Colin: So Carrington-Brown will be coming towards you in various different formats over the coming years. "Come one come all, come Carrington-Brown"!
---
A thousand thank you's to Rebecca Carrington and Colin Griffiths-Brown for their generous interview and photo shoot!
---
Interview: Rebecca Carrington & Colin Griffiths-Brown
Words + edit: Megan Spencer
Photos & portraits: Megan Spencer (where credited)
Visit: Carrington-Brown's website
Stay up-to-date: with CB's tour dates and new show "10"
Like: Carrington-Brown on Facebook
Watch: more Carrington-Brown on Youtube
Listen: to Carrington-Brown on Soundcloud
View: the full Carrington-Brown photo gallery